Authors, editors and publishing houses are familiar with a style sheet. But companies and brands should also consider the benefits of creating and maintaining a business style sheet. In a business setting, a style sheet is a compass that ensures a consistent voice across all company content, even when multiple writers are involved, which may improve the impression of professionalism and customer trust. Internally, keeping a style sheet will drastically cut the time and cost of editing and proofreading. It will also help make publishing and printing of your company materials more efficient. So, when I provide editorial services to businesses, I encourage them to start with creating (or reviewing their existing) style sheet.
And for those unfamiliar with the process, in this post, I approach the following questions about a business style sheet:
What is a style sheet?
How can a style sheet help your team?
What should a style sheet include?
What is a style sheet?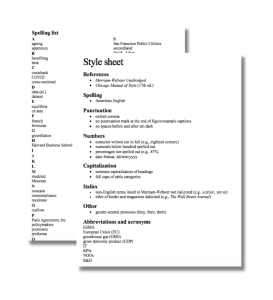 A style sheet is an element of brand guidelines. It records all conventions and rules a business or a team should follow in all company writing. Using a style sheet ensures that all company comms, from blog posts to board-level reports, convey the unique brand voice consistently.
How can a style sheet help your team?
Advantages of a business style sheet stream into two segments: the external (customer-facing) and the internal.
Customer-facing benefits of a business style sheet
Involvement of multiple stakeholders requires a consensus ensuring everyone is on the same page and, more importantly, the outputs they create are uniform. At the same time, a style sheet does not impede the individual creativity of the writers on the team. Instead, it allows communicating your business's brand, product and values with cohesion.
And why is that important? In essence, a style sheet ensures consistent brand representation, which, in turn, corroborates the clarity of the company message and the effort and professionalism behind the branded materials.
In support of this view, let us look at some numbers. A study carried out by Demand Metric in partnership with Lucidpress found that consistent brand representation increases revenue by an average of 23%. Additionally, 71% of participants in the study found irregular use of branding confusing.
Internal benefits of a business style sheet
There are several internal advantages to a business using a style sheet. Firstly, it will drastically cut the time and cost of editing and proofreading. With time, the style sheet will standardise the company's language and formatting decisions, keep track of them and, ultimately, make the text easier to read, edit and proofread. Consistent formatting will also make publishing and printing more efficient if your business circulates marketing materials and professional publications in electronic or paper formats.
Finally, staff turnover or new additions to the team will never again affect the company's written materials because the style and language conventions are recorded in a style sheet, not in the head of the lead writer.
What should a business style sheet include?
A business style sheet governs three high-level aspects — language, tone and formatting. The language umbrella includes localisation, spelling, capitalisation and grammar. Tone channels the brand identity. Formatting informs styling of font, headings, lists, quotations and other elements.
While all company writing should reflect its core message and values, the tone, language and formatting conveying it might vary depending on the medium. For instance, social media posts might adopt a less serious stance, while annual reports rarely can afford humorous arcs. So, a style sheet dedicated to different types of communication might be worth considering.
Tone
A disclaimer: as an editor, I focus on the two latter sections. A marketeer would be better skilled to work on your business's voice and identity conveyed in a style sheet. However, the elements of the style sheet most often present in this part consider:
balancing formality vs. familiarity and seriousness vs. humour,
reflecting company values and mission,
communicating the right point of view (written in the first, second or third person).
Language
There are numerous areas to include in this part of a business style sheet. Here is a step-by-step guide on creating the language section of a business style sheet.
Choose the language localisation and reference works that will guide your decisions. For UK English, they are usually New Heart's Rules and Oxford English Dictionary; for the US — the Chicago Manual of Style and Merriam-Webster Dictionary.
Make the punctuation decisions, for instance, whether to use:

Oxford (serial) comma,
single or double quotation marks,
punctuation inside/outside quotation marks.

Choose numbers and dates styling, such as:

spelling out numbers vs. using numerals,
preferred dates format.

Determine the abbreviations and acronyms' appearance, for example:

with/without periods,
whether to skip definitions of generally familiar ones, such as GDP or SME.

List all your preferred spelling variations.
Formatting
After aligning the text with the tone and language specs, its presentation needs to be standardised. Several elements under this umbrella could include your team's preferences:
font and spacing,
headings styles and capitalisation,
use of italics or bold,
styling of tables and figures and their titles,
links formatting,
numbered/bulleted list styling.
Conclusion
As a final note, remember that as company product and brand evolve and grow, the business style sheet should also be updated/expanded. In my experience, the more detailed the style sheet, the fewer revisions at the later stages. At the same time, if your style sheet is a volume comparable to the yellow pages, it may not be as helpful as one that highlights the fundamentals.
I hope you are ready to create your business style sheet now.  Below, you can find a free business style sheet template. If you still have some questions, contact me. I have helped businesses from various industries (digital healthcare, deep tech, cryptocurrency, supply chain management, energy, real estate) to communicate their message clearly and consistently.
If you want to hear more from me, including self-editing and writing tips, you can also follow me on Mastodon, Twitter and LinkedIn, sign up to my newsletter or contact me for a free sample edit (and remember to use my early bird discount!).