Self-publishers face many decisions when working to transform their manuscript into a published book. One of the choices they face is hiring a freelance copyeditor who will suit the style and needs of their text. It should consider the editor's track record, their clients' testimonials, qualifications, the quality of the sample edit, what improvements the manuscript needs, how long the editing will take and how much it will cost. Analysing these elements will allow you to choose a freelance copyeditor. So let us look closely at them to help you find the copyeditor that will most effectively polish your text.
What is copyediting?
Copyediting acts as a gatekeeper, spotting any issues relating to consistency, correctness and clarity. Without it, a manuscript sent to a publisher may feature inconsistent character names or low readability. For this reason, copyediting is an essential editing process in preparing a manuscript for publication, especially for self-publishing authors whose texts may not undergo other rounds of editing.
Copyediting focuses on the consistency, clarity and correctness of each sentence in your text. To achieve its objectives, copyediting includes the following tasks:
correcting grammar, spelling and punctuation,
removing sentence-level redundancies,
ensuring adherence to the language localisation conventions,
ensuring proper sentence structure and accurate word order,
creating an edited version (with tracked changes and comments) and a clean copy,
ensuring conforming to a style guide or other references,
checking names, dates and titles,
ensuring styling and language consistency,
flagging biased or insensitive language or jargon,
checking figures, tables and images against the text.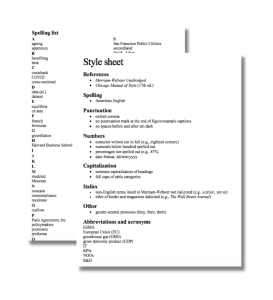 A text that has undergone copyediting should return to you as a marked-up manuscript with tracked changes and comments from the editor accompanied by a style sheet. A style sheet lists choices governing your text, such as spelling, punctuation, capitalisation, punctuation and treatment of abbreviations, but also the point of view or narration, to ensure consistency.
Check the copyeditor's track record
Check if the freelance copyeditor has a track record of editing your genre or subject matter. If they specialise in thriller and horror novels, they might not be the best choice for your academic book. Checking their portfolio will help you decide if the copyeditor is the right choice for your project. They should have a portfolio on their website or online marketplaces where you can find publishing professionals, such as Reedsy or Upwork. They should have a verifiable portfolio, ideally with hyperlinks to where the books they worked on are sold or reviewed (publisher's page, Discovery, Google Play, Amazon or Apple Books). Note that copyeditors are only occasionally listed in the preliminary pages of a book. Sometimes, authors include them in the acknowledgements section of their book. Another way to verify the copyeditor's involvement in the book is to contact the authors of the books listed in the copyeditor's portfolio.
Read the testimonials
Look for the testimonials from previous clients who worked with the freelance copyeditor you consider hiring. Their feedback will give you an idea of the quality of the editor's work and if they met the project requirements. It is important to note if the authors who provided the testimonials can be contacted or verified as real people. This will allow you to reach out and ask what it was like to work with this copyeditor. It will also cement the copyeditor's credibility if they provide full names and contact details of their past clients. For instance, in my portfolio, I include links to the LinkedIn profiles of the authors I have worked with (with their permission). This allows my perspective clients easily verify my portfolio.
Find out the copyeditor's qualifications
Learn about the copyeditor's qualifications before you hire them. Since a degree in copyediting does not exist yet, note that editors will have varying backgrounds, but that should not scare you off. Academic and non-fiction editors often hold qualifications in the areas in which they edit. For instance, editors with a degree in sciences might work with authors or publishing houses specialising in scientific publications.
Next, consider if the freelance copyeditor is a member of a professional organisation. Such associations for editors offer peer network support, training and codes of conduct that their members abide by. So, when you face a dilemma of how to choose a copyeditor, find out if they are a member of such a professional body.
For instance, in the UK, there is the Chartered Institute of Editing and Proofreading (CIEP). In North America⁠ — ACES: the Society for Editing and the Northwest Editors Guild. The CIEP offers their members various courses and workshops specialising in different types of editing skills, genres and tools and other improvement opportunities (for example, they organise an annual conference). It also requires its members to provide evidence of professional development they undertake to maintain or advance the membership. For this reason, you can trust that a copyeditor who is a CIEP member takes their professional growth and qualifications seriously.
Ask for a sample edit, price and turnaround time
A short (for instance, up to 1,000 words) sample edit is a standard practice in the industry, and it is best way to understand the copyeditor's skills and approach. A sample edit will demonstrate how the freelance copyeditor can help your text and if they are a good fit for your manuscript. It is an opportunity for them to showcase their expertise and estimate what editorial intervention your text requires.
Understanding the needs of the text will help them provide you with a quote for their services and assess the turnaround time. This way, before you choose a copyeditor, you will know what they can do, how much it will cost and when they will deliver the edited text.
Conclusion
After learning about the shortlisted copyeditors' track record and qualifications and getting a sample edit, price and turnaround quote, you can compare the candidates and choose a copyeditor who fits best with the needs of your text. If you are still unsure, here are some ideas for additional questions to ask when hiring an editor. You can also ask me for a free sample edit (and remember to use my early bird discount). If you want to hear more from me, including self-editing and writing tips, follow me on Mastodon, Twitter, Facebook and LinkedIn or join my newsletter.