Every year on November 1st, we celebrate National Authors Day. It is a day to show appreciation for the authors who touch our lives, inspire our imaginations and impart knowledge.
Authors' efforts and dedication to crafting and publishing books are immeasurable. Above all, this day reminds us to pause and express our gratitude to those literary magicians. After all, we all have that one or maybe two books we cannot get enough of.
They are like magic portals that take us to different worlds. Books are special because they let us escape from everyday life, even if it is just for a little while. To appreciate the authors behind your favourite books, you can start by:
Reading their works,
Sharing your favourite author's book with a friend,
Spreading the joy of storytelling and recognising its profound impact on our lives.
In celebration of National Authors Day, this post will discuss the importance of book writers in our lives, the origins of National Authors Day, and some unique ways you can celebrate this day.
What is National Authors Day?
National Authors Day is an annual event that reminds us to acknowledge and honour the remarkable contributions made by authors to the realms of literature and culture. This particular day is dedicated to expressing our heartfelt gratitude to these gifted individuals for their unwavering creativity and their enduring commitment to the art of storytelling.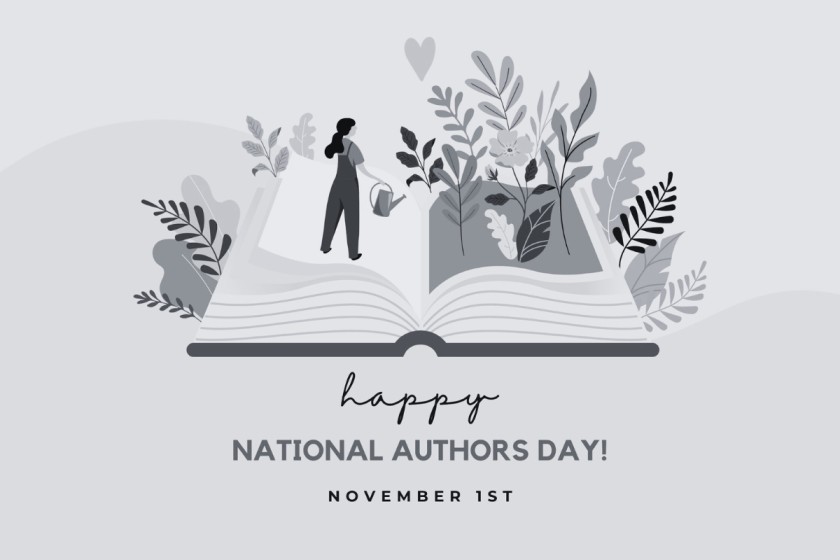 When is National Authors Day 2023?
National Authors Day is a yearly celebration marked on November 1st. This year, this noteworthy occasion falls on a Wednesday. Consequently, this mid-week timing offers a perfect opportunity to immerse ourselves in literary pursuits and extend our warm appreciation to the authors who have touched our lives.
How did National Authors Day start?
The history of National Authors Day dates back to 1928 when Nellie Verne Burt McPherson, the president of the Illinois Women's Club, conceived the notion of establishing a day dedicated to recognising American authors.
McPherson, an educator and a passionate reader, found inspiration for this holiday while she was recovering in a hospital during the First World War. During this time, she immersed herself in the pages of Irving Bacheller's Eben Holden's Last Day A-Fishing. This was a literary encounter that left an indelible mark.
Touched by the book's impact, McPherson wanted to express her admiration and gratitude to the author, Irving Bacheller. In a heartfelt letter to him, she conveyed her deep affection for his work.
In response, Bacheller sent her a signed copy of one of his other stories. Overwhelmed by his generosity and touched by the power of literature, McPherson resolved to find a way to reciprocate this kindness and honour authors.
Her original idea was to establish a national day dedicated to celebrating authors. This day would serve as a tribute to their remarkable contributions to the world of literature. McPherson, therefore, presented her idea to the General Federation of Women's Clubs, an organisation that resonated with her vision.
The inauguration of National Authors Day
The club, recognising the significance of such a day, approved. In May 1929, the club markedly endorsed the celebration of American Authors on what would later become known as National Author's Day.
However, it took over two decades for McPherson's dream to manifest fully. Even so, in 1949, the US Department of Commerce officially recognised and acknowledged National Author's Day. From that moment, the holiday gained the recognition it deserved and has been celebrated across the United States year after year.
After McPherson's passing in 1968, her granddaughter, Sue Cole, promoted this unique holiday. Cole's commitment to continuing her grandmother's legacy is unwavering. In addition, she encourages people to send heartfelt notes of appreciation to their favourite authors. The purpose is to commemorate the invaluable contributions of authors to our lives.
Authors — Who are they?
Without a second thought, you will describe an author as the writer of literary works such as novels, poems, or plays. However, an author is much more than that – they are creators!
Let's take Homer, the Ancient Greek author who composed the epic poems Iliad and Odyssey. Homer was blind, but he told his stories without putting pen to paper. Despite this, his narratives gained immense popularity. Today, they are some of the most celebrated literary works of all time.
From Homer's role in our culture, we can extrapolate that an authors are more than just 'writers' — they are creators and storytellers who help us expand our thinking and thus understand life's realities.
And they are more than friends. As the famous author J.D. Salinger put it, 'What really knocks me out is a book that, when you're all done reading it, you wish the author that wrote it was a terrific friend of yours, and you could call him up on the phone whenever you felt like it.'
If you have a favourite author, it is likely because their words forged a connection with you. Whether or not you interpreted their work exactly as they intended, it could inspire, challenge and, most importantly, leave you yearning for more. Authors are the silent friends who speak to our hearts and minds through the written word. They make National Authors Day worth a celebration.
Let's learn more about authors as we approach National Authors Day
Before diving into how you will celebrate National Authors Day, it is essential to understand that the writing landscape is multifaceted and influenced by various factors such as demographics, technology and societal changes.
These statistics offer valuable insights into the composition of the writing community and the trends that shape the industry. Let's explore the key findings that shed light on the world of writers.
As per the Occupational Outlook Handbook by the Bureau of Labor Statistics, employment for writers and authors is projected to grow by 4% by 2032, indicating a relatively steady demand for writing skills in various industries.
McKinsey's research asserts that generative AI could contribute to labour productivity growth of up to 0.6% annually through 2040, indicating technology integration in writing and content creation.
The International Monetary Fund suggests that globalisation has transformed the writing landscape, enabling writers to reach a global audience quickly. Another key point is that it has created opportunities for diverse cultural influences in writing and content creation.
According to Our World in Data, population growth statistics reveal that the world's population continuously expands, creating a larger audience for writers. This growth has implications for content creators who aim to reach a global readership.
How can you celebrate National Authors Day?
National Authors Day is a special occasion for book lovers and wordsmiths to honour the art of writing and those who bring stories to life. This year, let's explore unique and heartwarming ways to celebrate and pay homage to the authors who captivate our hearts and minds. But you might wonder, how can you make this day special?
Tweet at your favourite author on National Authors Day
Connecting with your beloved authors is easier than ever in this digital age. Therefore, take a moment to send a heartfelt tweet expressing your gratitude and admiration. Furthermore, many authors are active on social media, and your message could brighten their day. You never know—they might even respond.
Buy a book for yourself or a friend on National Authors Day
What better way to celebrate National Authors Day than indulging in a good book? On this occasion, visit your local bookstore or explore online retailers for a new literary gem. Consider buying a book for a friend, sharing the joy of reading and promoting the written word.
Give some time to the author inside you
Have you ever dreamed of writing your book? National Authors Day is the perfect time to start or revisit that dream. Dedicate some time to nurturing your inner author. Whether jotting down ideas, writing a short story, or embarking on a novel, honouring your creative side is a meaningful way to celebrate.
In your quest to celebrate National Authors Day, remember that the written word has the power to inspire, educate and entertain. As you engage in these activities, you honour the authors who've touched your life and contributed to the literature.
What hashtags can you use on National Authors Day?
#NationalAuthorsDay
This is the centrepiece hashtag. It is essential to join the conversation and share your appreciation for authors. Therefore, use it liberally.
#BookLovers
A universal favourite, this hashtag connects you with fellow book enthusiasts. So, share your love for your favourite authors and their works.
#AmReading
If you are currently engrossed in a book, this hashtag is perfect. In fact, it is a simple yet effective way to show your support for authors.
#WritersCommunity
Authors and aspiring writers alike gather here. For this reason, use this hashtag to engage with those who create the magic of words.
#AuthorSpotlight
Shine a light on your favourite authors or even discover lesser-known gems. It is a fantastic way to give recognition.
#LiteraryWorld
Broaden your horizons and connect with a global community of literature lovers. Share your thoughts and discover new perspectives.
#BookRecommendations
If you have a book in mind that you cannot put down, recommend it to others using this hashtag. Spread the literary love.
#ReadingList
Share your National Authors Day reading list and see what others plan to read. It is a great way to exchange ideas.
#CelebrateAuthors
This hashtag is about expressing gratitude to the authors who have left a lasting impact on your life.
#WritingJourney
If you are an author or aspiring to be one, use this hashtag to share your writing journey. Connect with fellow wordsmiths and learn from their experiences.
Now, with these relevant hashtags, you are ready to make your National Authors Day celebration truly memorable. Join the digital literary conversation, share your favourite authors and immerse yourself in the world of words. After all, it is a day dedicated to celebrating the magic of storytelling.
Final thoughts
National Authors Day celebrates the literary world's unsung heroes — authors. It allows readers, writers and book lovers to express appreciation for the stories that enrich our lives.
Whether it is a simple tweet to your favourite author, sharing the gift of a good book with a friend or nurturing your inner wordsmith, this day reminds us of the profound impact of literature. So, let's embrace National Authors Day not just on November 1st but every day, for it is a day that acknowledges the timeless magic of books and the authors who craft them.